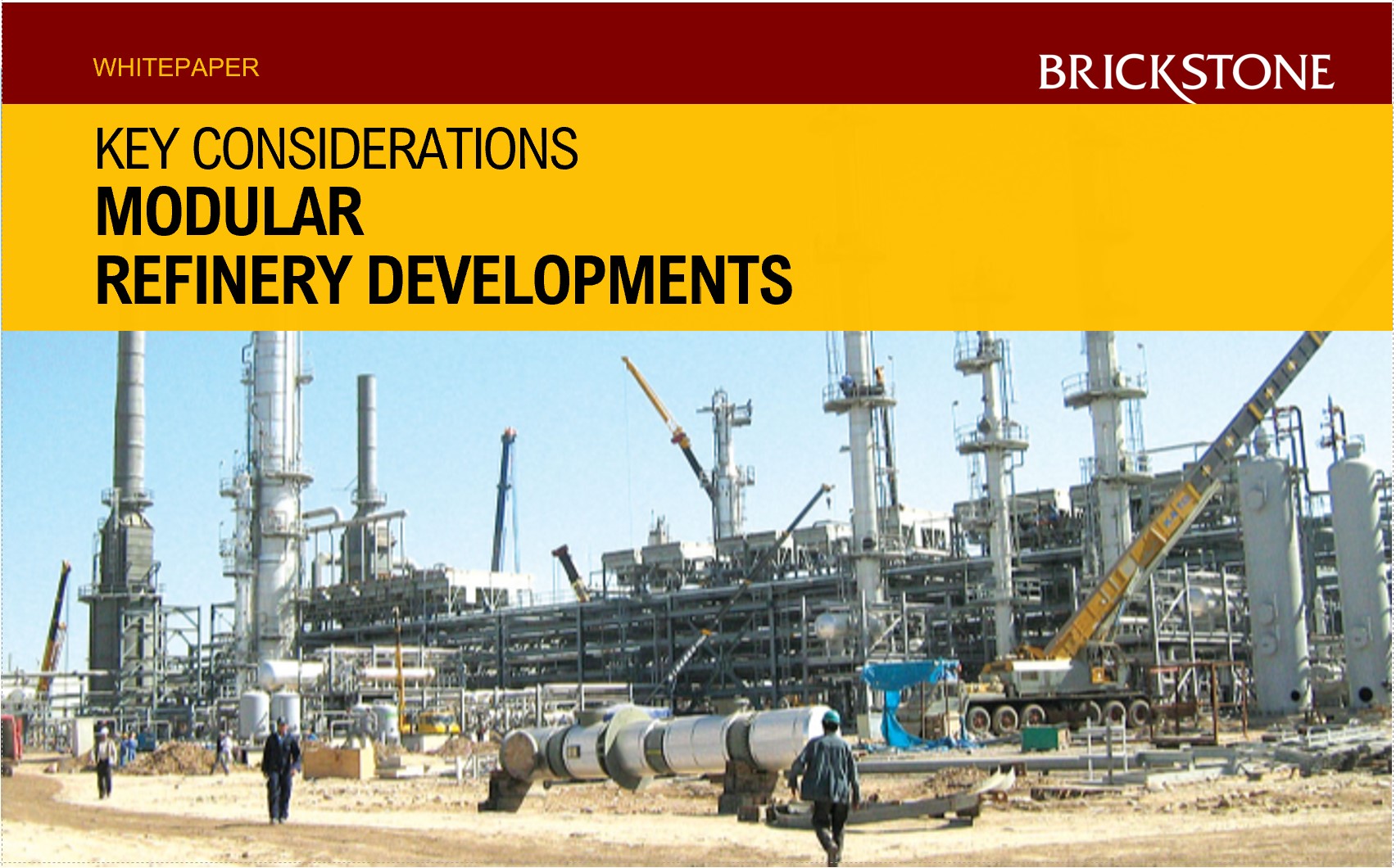 Key Development Considerations_ Modular Refinery Development
Modular Refinery has been identified as a viable alternative to the current systems of refining oil and gas in Nigeria. It provides great economic prospects, and is more cost effective and befitting of a country like Nigeria. This White Paper created by the expert team at Brickstone Africa, culminates data from various sources to give a detailed exposition into Modular Refineries and their operation in Nigeria. 
This White Paper gives a rather technical definition of a Modular Petroleum Refinery to be a process plant for refining crude oil that is engineered and constructed on largely skid-mounted structures. Each skid contains a section of the entire process plant and through interconnecting piping, the component skids are linked together to form an integrated operable process plant at the site. 
Basically, a modular skid unit houses a process system within a frame so that the system can be transported easily. The modular process skid offers a high level of quality control, efficient use of space and pre-delivery testing to ensure ultimate functionality. Modular refineries are usually available in capacities ranging from 1,000 to 30,000 barrels per day (bpd).
Furthermore, this White Paper attempts to demystify Modular Refineries for high level investors and also explains their prospects to the Nigerian market. It explains that these Modular Refineries are a source of rapid production of primary fuel products and raw materials for Petrochemical Downstream Industries, and that they are ideally suited for remote locations, as well as being a viable investment opportunity for Public-Private Partnerships. 
For investors to commit resources to this sector of the economy, the first step would be to seek approval from the Department of Petroleum Resources. Investors will need to apply for block allocation or partner with the government at different levels on a Public-Private Partnership basis to guarantee investment and feedstock for the production plant. 
In addition, this White Paper highlights some conditions that are required to make such an investment in Modular Refinery workable, and some of them include: Proximity and Access to Crude Supply; Location to Sizable Markets with Logistics Advantages; Project Finance on Preferential Terms from Development Credit Agencies; and Government Incentives. 
Modular Refineries have various benefits to all stakeholders in the market. For the dwellers in the remote locations where the refineries would be constructed, they would be able access and purchase the products at a much cheaper price than how they obtain them presently. 
Furthermore, since Modular Refineries can be constructed in different locations within a short time span of about 15 to 20 months for a refinery of 20,000bpd, this ultimately eradicates the need for expensive transportation of crude oil through pipelines covering long distances, which in many cases, would still be susceptible to vandalization. Other benefits of a Modular Refinery have been discussed in this White Paper. 
Moving forward, this White Paper also identifies some challenges that hinder the introduction and development of Modular Refineries in Nigeria. They include Regulatory Uncertainties, Security Problems, Infrastructural Deficit, Shortage of Feedstock Access, and the Nonchalant Attitude towards Sanctity of Contracts. 
With regards to the problem of regulatory uncertainties, this White Paper explains that Nigeria loses an estimated $15 billion yearly in foreign investments due to regulatory uncertainties, which in turn discourages various institutional and individual investors from setting up innovations like Modular Refineries in Nigeria.
Additionally, this White Paper provides an exposition into the security issues faced by the Nigerian oil and gas market, which includes Industrial sabotage, crude oil theft, illegal refining operations, pipeline vandalism and piracy. As a result of these issues, many potential Modular Refinery Investors may be deterred from making investments into the Nigerian market. 
Damaged pipelines, shallow channels and the absence of an effective logistics backbone are some major infrastructural impediments that have constrained growth of refineries in Nigeria. This infrastructural deficit also presents a major problem to the realization of set goals by the country and institutional investors in achieving their goals for the development of Modular Refineries. This White Paper also extensively expatiates on all of these problems and their individual effects. 
This White Paper further gives an exhaustive exposition into Nigeria's motivation for developing Modular Refineries.  First, it would aid in the swift and more cost-effective establishment of the Oil and Gas Free Zone; Second, to promote investments such as the Modular Refineries, as well as to guarantee returns on investment, Investors in the market would gain incentives from the government; Third, such development would help in promoting adequate security for the players in the oil and gas market; Fourth, it would also drive friendly regulations; Fifth, it advances more functional Infrastructures in Nigeria; Last, since modular refiners require constant access to feedstock, growth will also be seen on that front. 
In addition to the above, this White Paper gives an Economic Analysis of Modular Refineries. It states that the economic viability of a refinery depends on the interaction of three key elements – the choice of crude oil used or crude slates; the complexity of the refining equipment or refinery configuration; and the desired type and quality of products produced.
For one of the economic effects of the choice of crude used, it must be noted that using more expensive lighter or sweeter crude oil requires less refinery upgrading, as opposed to using cheaper or heavier crude which means that there would be more investment in the upgrading process, and ultimately the whole project cost. Other elements relating to the choice of crude that determines the economic viability of the project, have been explained in this White Paper. 
In relation to refinery configuration, the category of refinery is important to the project. This White Paper discusses three different levels of refineries – Topping Plants, Cracking Refinery, and Coking Refinery. The refinery configuration is also influenced by the product demand in each region. 
In addition to the foregoing, discussed in this White Paper are the various differences between modular mini refineries and conventional refineries, and the reasons why investors should be more inclined to investing in the former rather than the latter, as well as the various benefits to the former. 
Furthermore, this White Paper also gives an exposition to the technicalities of Modular Mini-Refinery Configurations. It explains the different kinds of configurations available, and they include Atmospheric – Topping Unit, Gasoline Train, Vacuum Distillation – Cracking, and lastly, Hydrocracker Unit – Full Conversion. 
Finally, this White Paper concludes its analysis of Modular Refinery Project Development and Financing, by demystifying the concept of project finance and its framework for refineries. It explains the role of the project sponsors as well as the lender consortium, and their key objectives with the project. Project Sponsors typically receive equity in the project, and their main objective is to make profits. Lenders (or Consortium of Lenders) for their own part, include commercial banks, export credit agencies, as well as multilateral agencies, and are debt financiers who provide long-term loans for the project in return for the loaned amount plus interest. This White Paper extensively discusses the important details that must be made note of, in relation to refineries. 
OTHER E-BOOKS THAT MAY BE OF INTEREST
Developing Information Memorandum for Large Projects
Developing Information Memorandum for Large Projects An Information Memorandum (IM) is a package of documents created by business owners for...
Read More →
Template for Strategic Business Plan
Strategic Business Plan for Large Projects Planning is one of the most important parts of running a business, whether you...
Read More →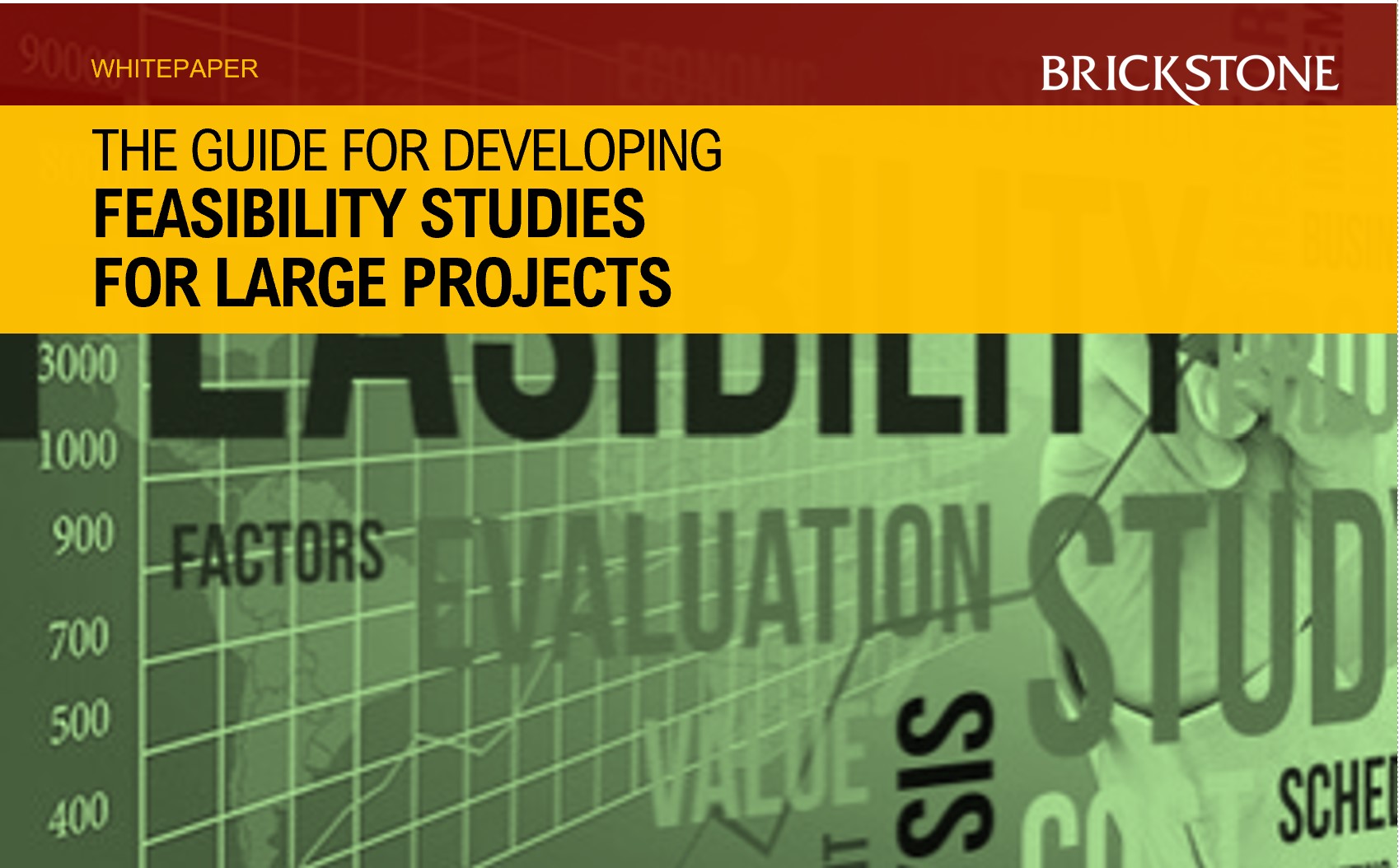 Template for Feasibility Studies for Large Scale Projects
Feasibility Studies for Projects Feasibility studies should arrive at definitive conclusions on all the basic aspects of a project after...
Read More →