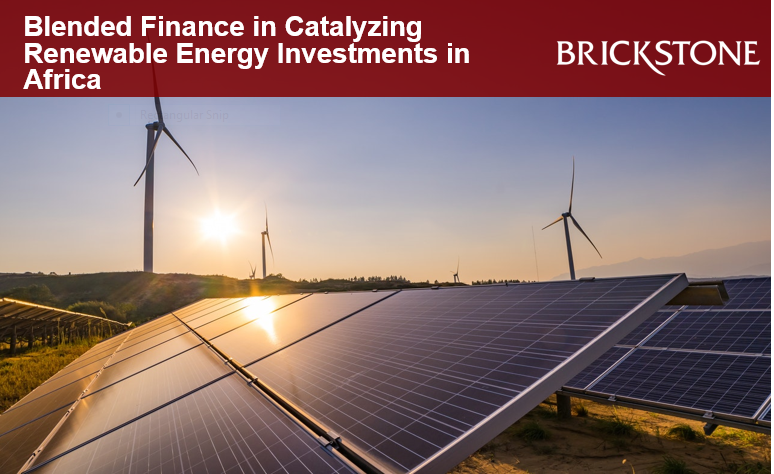 Blended Finance in Catalyzing Renewable Energy Investments in Africa
Blended Finance in Catalyzing Renewable Energy Investments in Africa
The world has continued to face challenges such as climate change, lack of clean water and sanitation, unaffordable housing, lack of sustainable energy and resilient infrastructure, food insecurity, and so on.
With greater impact on developing countries, like Africa, these challenges have adversely affected the quality of life of the people as well as national economies. Curbing these challenges require a massive level of capital investments to scale global solutions.
For instance, the Global Commission on the Economy and Climate stated that as much as $90 trillion is needed over the next 15 years to develop a sustainable infrastructure that can begin to address the world's most pressing environmental, economic and social issues.
Similarly, the new IEA geospatial analysis shows that to provide universal electricity access to 1.3 billion people by 2030 (a number that includes projected population growth), mini-grids would be the cheapest technology for connecting 450 million people, which would require a total investment of about $300 billion between now and 2030, or $20-25 billion every year.
These statistics simply reflect that a large amount of finance will be needed in powering up these global solutions.
Furthermore, on how to generate this finance, a strong collaboration and organization between the public and private sectors, academia, and nonprofits is required. Blended finance is a strategic structuring approach, if fully optimised, will aid the realization of this goal.
This article by Brickstone, reviews the role of Blended Finance in Catalyzing Renewable Energy Investments in Africa.
Blended Finance in Investment
Blended finance, a strategic approach which has grown in the past decade, allows the use of development finance or philanthropic funds for the mobilisation of private capital flows towards sustainable development in developing countries.
It has helped contribute to faster economic growth in such countries, complementing their own investments and ODA inflows to fill their Sustainable Development Goals (SDG) financing gap, and supporting the implementation of the Paris Agreement.
The Word Bank asserts that blended finance has represented an aggregated financing of over $160 billion, with annual capital flows averaging approximately $9 billion since 2015. Similarly, it has achieved notable success in Sub-Saharan Africa, attracting 61% of global concessional financing in 2020.
Blended Finance in Catalyzing Renewable Energy Investments in Africa
Africa faces a serious electric power shortage as the continent currently has the worst electricity access in the world.
Over 640 million Africans have no access to energy, corresponding to an electricity access rate for African countries at just over 40 percent, amounting to the lowest in the world.
This state primarily constrains modern economic activities, provision of public services, food production, and quality of life. This therefore calls for an urgent address with an increased investment in electricity infrastructure, particularly off-grid solar-powered electric facilities.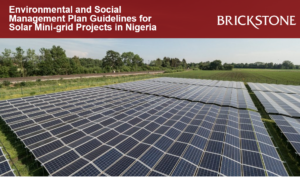 Barriers like early stage risk, liquidity, policy and regulatory risks, and off-taker and currency risks prevent the realization of investment opportunities in such high-impact countries. Blended finance is a tool to address some of these barriers.
According to the World Bank, catalytic instruments like blended finance are critical for scaling up electricity investments in Africa. It will help attract and mobilize public funds to unlock larger amounts of private sector investments to expand renewable energy in the continent.
This will also improve access to affordable and sustainable energy services, reduce the dependency on fossil fuels, and bring African countries a step closer to accomplishing their sustainable development goals.
For instance, the Democratic Republic of Congo (DRC), pioneered by the World Bank Group's new Scaling Mini-Grid initiative, is set to launch an ambitious mini-grid expansion. The IFC expects the blended finance guarantee provided to mitigate demand risk to help mobilize $400 million in capital investment into mini-grids. The investment will develop 180 MW of installed solar PV capacity in DRC, providing renewable energy for more than 1.5 million new users.
In the same vein, market projections show that a successful pioneering of the model in the off-grid and distributed solar market in Nigeria could grow tenfold by 2025.
Click to read more.
Why not contact us to make your Project Happen
Our advisors and consultants would be able to schedule an online meeting with you to discuss your project with the overall objective of seeking ways to achieve the "bankability" and protection of the long term asset value of your project.
Request a Meeting Now