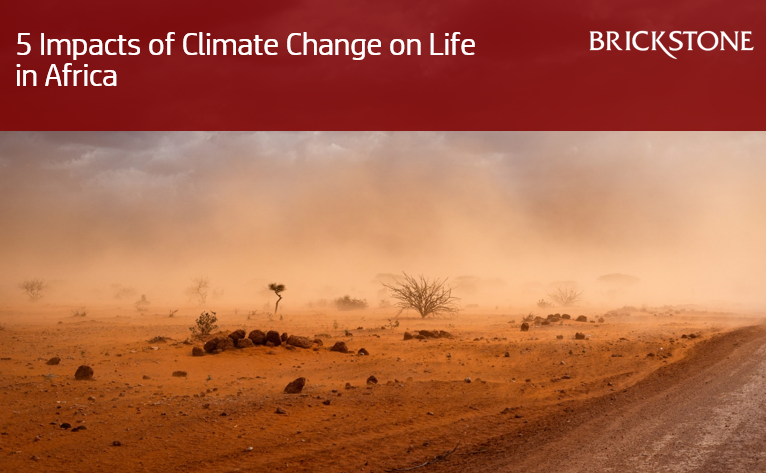 5 Impacts of Climate Change on Life in Africa
Despite Africa's low contribution to global greenhouse gas emissions, at just 3.8%, in contrast to 23% in China, 19% in the US, and 13% in the European Union, it remains the most vulnerable continent to climate change adverse impacts. This includes the exposure to exponential collateral damage, posing risks to its economies, infrastructure investments, water and food systems, public health, agriculture, and livelihoods.
These impacts of climate change largely prevent Africa from achieving the targets of the Sustainable Development Goal as well as the goals of the Africa Agenda 2063.
This article by Brickstone reviews some institutional reports and publications highlighting the key impacts of Climate Change on Life in Africa.
Impacts of Climate Change on Life in Africa
Increasing temperatures and sea levels, changing precipitation patterns and more extreme weather are threatening human health and safety, food and water security and socio-economic development in Africa.
Climate change is having a growing impact on the African continent, hitting the most vulnerable hardest, and contributing to food insecurity, population displacement and stress on water resources. The need for ambitious climate action is heightened as a result of the rapid effect of these impacts in Africa.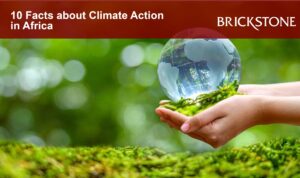 Without drastic intervention and actions taken, the impact of Climate change will remain an existential threat, which is projected to cause more devastating global consequences in the years to come. The current climate trajectory is predicted to force 100 million people into extreme poverty by 2030.
The following are multiple impacts of climate change on life in Africa:
1
Agriculture: African countries depend highly on agriculture, thereby making it critical to the continent's economic growth. However, agriculture in Africa is particularly vulnerable to the impacts of climate change because of its dependence on rainfall, and climate change has seriously affected rainfall throughout the continent. As a result, it is highly vulnerable to changes in climate variability, seasonal shifts, and precipitation patterns. This could destabilize local markets, reduce food production, limit economic growth, and increase risk for agriculture sector investors.
2
Human Health: Climate change has critical health implications on African countries in myriad ways, through exacerbating malnutrition, contributing to poor air quality, polluted drinking water, altering the geographic range of infectious disease pathogens and vectors, and triggering mass human displacement. With more devastating effects on areas with weak health infrastructure, mostly in developing countries, climate change is expected to cause approximately 250,000 additional deaths per year, from malnutrition, malaria, diarrhoea and heat stress between 2030 and 2050.  According to WHO, the direct damage costs to health are estimated to be between US$ 2-4 billion/year by 2030.
3
Biodiversity Loss: Africa houses a rich and diverse animal, plant, and marine biodiversity that provide critical ecosystem services, driving the continent's economy and serving as buffers to climate change. However, due to the rapid increase in climate changes and Impacts, the continent is experiencing a dramatic loss of biodiversity. This loss of biodiversity can alter the structures and functions of African ecological systems. It will also affect livelihoods, water supply, food security and lessens resilience to extreme events, particularly for people living in rural areas who are often the poorest.
4
Glacier and Water Supply: According to Africa Times, climate change is causing the rapid melt of glacier ice on the African continent, with all of it likely to be gone by 2040 or sooner. Currently, Mount Kilimanjaro is faced with this challenge as an estimated 82 percent of the icecap crowning the mountain when it was first thoroughly surveyed is now gone. The mountain is projected to lose the majority of its glaciers in the next 15 years. The melting is part of a wider pattern of increased heat, drought, and other climate impacts that disproportionately affect Africans. This can directly harm animals, destroy the places they live, and wreak havoc on people's livelihoods and communities.
5
Infrastructures: Floods, droughts, and wildfires are exacerbated and intensified by sea level rise and extreme weather. These climate conditions pose a great threat to infrastructures in Africa, especially transportation infrastructure, causing extensive structural damage. It can also accelerate the ageing of infrastructure components, which can lead to considerable financial losses.
Conclusion
The current situation in Africa is that climate change has an adverse impact on many aspects of life, society, economy, and ecosystems. The risk of these impacts are set to grow due to the rapid accumulation of GHGs in the atmosphere and the lack of ambition when it comes to global mitigation efforts in NDCs. This therefore calls for the urgency in the need for efficient and drastic actions to be taken by African countries to combat climate change, its conditions and impacts.
Read more here.
Why not contact us to make your Project Happen
Our advisors and consultants would be able to schedule an online meeting with you to discuss your project with the overall objective of seeking ways to achieve the "bankability" and protection of the long term asset value of your project.
Request a Meeting Now