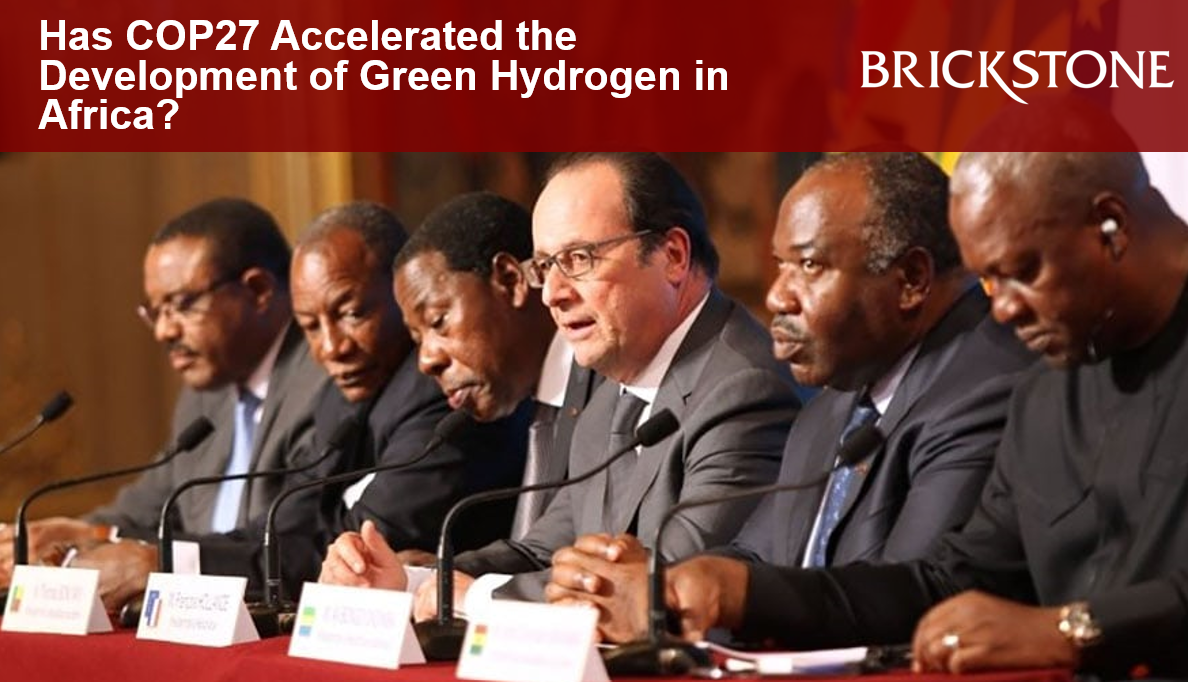 Has COP27 Accelerated The Development Of Green Hydrogen In Africa?
From 6 to 18 November 2022, the 27th Conference of the Parties of the United Nations Framework Convention on Climate Change (COP27) took place in Sharm-El-Sheikh, hosted by the Government of the Arab Republic of Egypt.

The COP27 Conference brought together countries from around the world to increase ambition and implement existing goals and strengthen commitments. It finally came down on the closing agreement after nations finally reached agreements on sticky climate change issues such as loss and damage and carbon markets.
Out of many notable achievements reached at the COP27, the announcements of new partnerships, initiatives, deals and pledges for green hydrogen was one that stood out in the space. This article by Brickstone reviews some institutional reports and publications on the impact of the recently concluded COP27 on the green energy transition in Africa.
The Energy Dilemma in Africa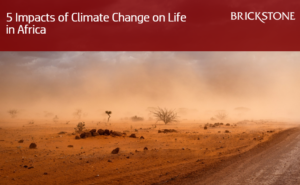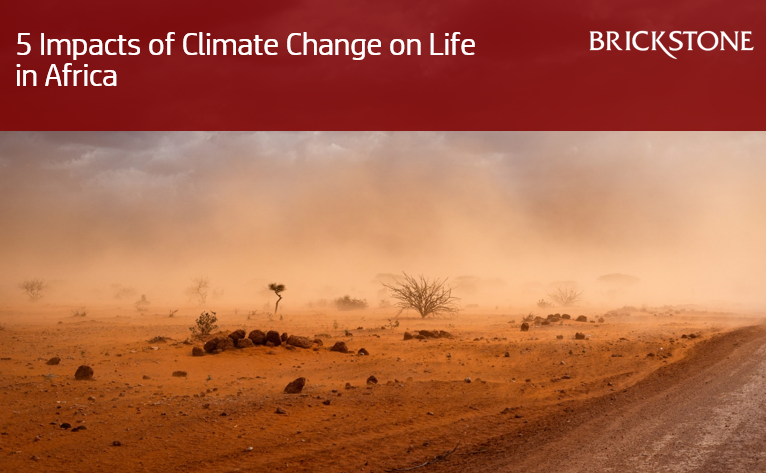 According to EUI, Africa as a continent contributes the least to global warming, responsible for less than 3% of the world's energy-related carbon dioxide (CO2) emissions to date, as well as having the lowest emissions per capita of any continent (IEA, 2022). However, Africa arguably suffers some of the worst impacts of climate change, including increased frequency of extreme weather events such as drought, delayed rainy seasons, or flooding due to excessive rains. These conditions contribute to a range of social and economic problems, including food insecurity and hampered economic growth.
Climate change exposes Africa to exponential collateral damage, posing risks to its economies, infrastructure investments, water and food systems, public health, agriculture, and livelihoods. These impacts largely prevent Africa from achieving the targets of the Sustainable Development Goals, as well as the goals of the Africa Agenda 2063.
Alongside global partners and allies, IRENA showcased how climate commitments can be translated into action and implementation on the ground with the goal of catalysing just and inclusive energy transitions through raising ambitions, scaling up renewable energy investments and increasing energy access globally.
However, despite Africa's large coal, oil, and gas reserves, some parts of the continent still struggle with very low rates of electricity access and often very high energy prices relative to other parts of the world. Although Africa is equally rich in renewable energy sources, it lacks some of the requisite capabilities and technologies to transition from fossil sources of energy to renewable energy. 
Many African countries are facing a dilemma; (i) use their cheap and readily available fossil assets to address urgent energy needs, contributing to global warming in the process or (ii) take the potentially slower path to ramp up renewables, with the risk of neglecting the most pressing local energy needs in the short term. For context, the IEA WEO for 2022 outlines that renewables are the cheapest form of installed electricity capacity virtually everywhere in Africa. However, investments in the infrastructure for renewables involve high capital expenditure, relative to fossil projects.
Moreover, according to IRENA's findings, out of the USD 2.8 trillion global investments in renewable energy in the last two decades, only 2% were made in Africa, with significant regional disparities. 
Although fossil fuel assets also involve high capital expenditure, the infrastructure is often already installed and in operation. Therefore, the challenge faced by many African countries with fossil fuel assets is whether it makes economic sense to abandon them entirely for investments in renewables.
This is an uncomfortable situation for African political and business leaders, especially in an era when Africa seeks to embark on heavy industrialisation and development. Nevertheless, they need to find creative ways of addressing the energy dilemma. 
Could the many green hydrogen deals signed at COP27 be part of the solution?
The Role of Renewable (Green) Hydrogen
Worldwide, green hydrogen, hereafter referred to as GH2, is becoming a more attractive option in the transition to a cleaner energy system. Some refer to it as the oil of the future because of its critical role in the energy transition. There is currently unprecedented political momentum surrounding hydrogen. The European Union (EU) recently announced they are targeting 20 million tons of green hydrogen consumption annually by 2030, they have launched the European Hydrogen Bank with at least €3bn seed funding to help get there.
In a similar move, the US has introduced the Inflation Reduction Act, which offers a 10-year production tax credit (up to 3 USD/Kg) for "clean hydrogen" production facilities.
GH2 is an energy vector and an industrial feedstock. This means it can be the basis for complex and robust economic value chains, with the potential for processing into finished products such as renewable fertilisers and chemicals. Moreover, it can decarbonise highly polluting and hard-to-abate sectors, such as for producing building materials – including cement, steel, and glass.
Read more here.

Why not contact us to make your Project Happen
Our advisors and consultants would be able to schedule an online meeting with you to discuss your project with the overall objective of seeking ways to achieve the "bankability" and protection of the long term asset value of your project.
Request a Meeting Now