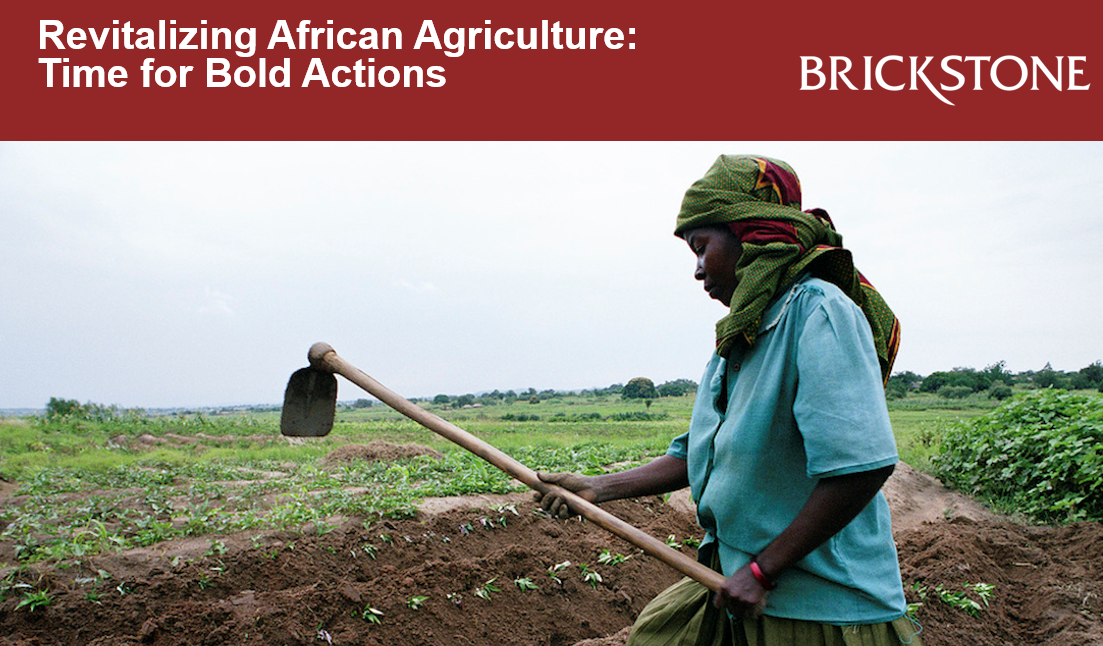 Revitalizing African Agriculture: Time for Bold Actions
African agriculture is at a crucial juncture. This is predominantly as a result of the high cost of nutritious food, unequal trading markets, war in Ukraine, energy crises acceleration, and adverse climate change impacts – imposing a heavy burden on vulnerable households across African nations, especially the 33 least developed countries on the continent. 
According to UNCTAD, the number of people experiencing food insecurity across Africa at a moderate or severe level increased from 512 million in 2014 to 794.7 million people in 2021 – nearly 60% of the continent's population. Troublingly, at this pace, African agriculture is not on track to meet the food security and nutrition targets of Sustainable Development Goal 2. This has made it critical to transform the agriculture sector in order to lift vulnerable rural people out of poverty and hunger. 
This article by Brickstone reviews some institutional reports and publications on the need to take bold actions in revitalizing African agriculture. 
Transforming African Agriculture: Making  a Big Difference
According to IFDC, agriculture is a vital sector of Africa's economy. In 2021, the sector employed 65% of the labour force and achieved 59% of the African Union (AU) Agenda 2063 goal of modernizing agriculture for improved productivity and production.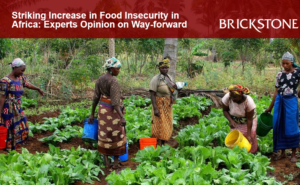 Yet, the continent is off-track in achieving the zero-hunger target, as the 2019 prevalence of undernourishment (19.1%) is projected to rise to 25.7% by 2030 due to a failure to harness the full potential of the agriculture sector.
Global challenges to moving affordable food, fertilizer and fuel are compounding with ongoing conflict in the region and drought. This puts pressure on already fragile livelihoods across the continent and raises the risk of additional population displacement due to lack of food.
For decades, African agriculture has been one of the topmost priorities in developing the continent, especially with its multiplier effect on the economy. Agricultural transformation is therefore necessary for Africa's development.
African Agriculture: Protectionism and Trade Disruption is Hitting Imports
According to UNCTAD, African countries, most of which are net food importers, food security is largely dependent on global markets. At least 82% of Africa's basic food imports come from outside the continent. In Eastern Africa, 84% of wheat demand is met by imports.
Fertilizer prices have also more than tripled since January 2020, putting a strain on farmers across the continent. In Kenya, for example, rising fertilizer costs caused many farmers to abandon its use, until the government introduced a significant subsidy.
The closure of key trade routes, including the Black Sea, has dampened access to food staples and fertilizer. Furthermore, as global supplies become limited, traders are likely to favour larger markets, threatening access to smaller farms across the continent, which are nevertheless responsible for 70% of African food production.
African Agriculture: Vulnerable Populations, Vulnerable Land Tenure
Despite the extremely challenging global context, homegrown challenges exacerbate Africa's food security crisis. Africa is not realizing its own potential to feed itself.
In 2021, 52% of employed people in Sub-Saharan Africa were active in agriculture, and roughly 45% of the world's area suitable for sustainable agriculture production expansion is located in Africa, but the lowest agriculture productivity per worker rates are found within the continent.
With production processes unchanged for many decades, most of African agriculture is still characterized by the farming of cash crops for export. For example, 14.8% of Côte d'Ivoire's land is used for cocoa production.
While the world is reliant on Côte d'Ivoire's cocoa, which makes up 40% of global supply, the country reaps few benefits. The labour-intensive agriculture leads to minimal investment, and most of the 5 million people, approximately 20% of the population, who depend on cocoa farming for their livelihoods remain in chronic poverty. As Côte d'Ivoire dropped the farmgate price of cocoa by 17.5% last year, the disparity caused by rising food prices will intensify food insecurity across the nation.
Another concern is that huge swathes of land are subject to long-term leases by foreign nations and private companies for the extraction of resources and the production of agricultural goods for export.
While the scale of these land deals is unknown and reports vary, there is evidence for alarm (see the figure below). Large-scale land deals in Africa totalled 22 million hectares from 2005 to 2017 and are likely rising.
Read more here.

Why not contact us to make your Project Happen
Our advisors and consultants would be able to schedule an online meeting with you to discuss your project with the overall objective of seeking ways to achieve the "bankability" and protection of the long term asset value of your project.
Request a Meeting Now