Facts about Africa's Road Transport Infrastructure
Road transportation is the most frequently used means of transporting goods and people in much of African countries, thereby making Africa's road transport infrastructure a key player in driving economic development and opportunities in the continent. As far back as the 1960s, architects of African integration agreed that building infrastructure was vital to stimulating intra-African trade and distributing its benefits regionally, contributing to economic growth and poverty reduction. And to better share the gains of trade, more road infrastructures are needed to connect better regions of a country and countries in a given area as well that is the basis to improving intra-African trade.
This article by Brickstone reviews some institutional reports and publications on Africa's road transport infrastructure, highlighting key facts and insights.
Facts about Africa's Road Transport Infrastructure
A good road infrastructure system plays a very significant role in the overall development of a nation 's economy, as it stimulates trade, economic development, as well as social opportunities. Conversely, inadequate road infrastructure retards economic growth potential by undermining the export competitiveness of agricultural produce and other manufactured goods; curtails the opportunity for employment and business development; and impedes human development efforts in health and education.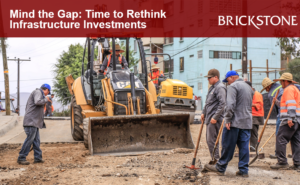 Yet, Africa, according to the United Nations, lags behind the rest of the world in all aspects of infrastructure development – quantity, quality, cost and access. Similarly, recent studies show that the majority of the roads in the continent are still unpaved, and till date, more than 80 per cent of them are only in fair condition while 85 percent of rural feeder roads are in poor condition and cannot be used during the wet season.
The multiplier effect of building good roads, rails, marine and air infrastructure is increased trade and social integration which in the long run translates to improved social welfare and well-being of the people, the main goal of any development plan.
The following are key facts and insights on Africa's road transport infrastructure: 
1
According to McKinsey, most of Africa lags the rest of the world in coverage of key infrastructure classes, including energy, road and rail transportation, and water infrastructure. Taking road transportation as an example, the continent has approximately 31 kilometers of paved road per 100 square kilometers of land in comparison to 134 kilometers of paved road in other low-income countries. As efforts to complete the trans-African highways continue, the quality of existing roads is deteriorating.
2
According to the OECD, simulations suggest that improving Africa's infrastructure could boost GDP growth by an additional 2.2% a year. The problem with the poor quality of transport infrastructure is the increased cost it generates, as OECD, estimates that transport costs account for between 30% and 40% of the final price of commodities traded intra-Africa. Accordingly, the logistics costs can rise even higher, reaching 60% for landlocked countries. 
3
The implementation of the AfCFTA has the potential to boost economic trade and development, and create jobs within the African continent. And because transaction costs of intra-Africa trade depend quite notably on road transport, the state of Africa's Road Transport Infrastructure becomes a key concern, making it core to the realisation of the objectives and goals of the AfCFTA. According to the African Development Bank, transportation and the AfCFTA are like Siamese twins as they are intricately linked. Transportation provides the vehicle through which the major objective of AfCFTA thrives.
4
According to the World Bank, Africa's development is highly dependent on an adequate, reliable road system. However, climate change is expected to take a heavy toll on the region's transport infrastructure, especially roads and bridges. This is as a result of the low density and poor condition of the existing road infrastructure, causing a serious impediment to the region's growth. Currently, only 1/3 of rural inhabitants live within two kilometers of an all-season road–the lowest accessibility in the developing world. Moreover, insufficient funding of routine maintenance accelerates the deterioration of the network, leaving many roads in poor condition.
5
As moves towards regional integration gain momentum, ways of overcoming Africa's transport problems are being sought. According to the UN, building infrastructure involves significant initial outlays of capital and continuous expenditure on maintenance and management. Research estimates show that $18-25 billion per year is required to provide adequate infrastructure in Africa. The continent currently only invests about $5 billion annually. Experts have proffered that the commercialization of infrastructure delivery – private sector investment inclusion – could help in reaching this financial gap.
Read more on Africa's Road Transport Infrastructure here. 
Why not contact us to make your Project Happen
Our advisors and consultants would be able to schedule an online meeting with you to discuss your project with the overall objective of seeking ways to achieve the "bankability" and protection of the long term asset value of your project.
Request a Meeting Now