Africa's Digital Infrastructure Opportunity
Africa's digital infrastructure presents a ripe and often underappreciated investment opportunity for the continent. According to the International Finance Corporation and Google, the continent's internet economy has the potential to add $180 billion (£142 billion) to Africa's GDP by 2025 – and there is a need for robust digital infrastructure to support this growth.
The COVID-19 pandemic served as a powerful catalyst in this regard, intensifying the demand for enhanced digital infrastructure across the continent as internet usage surged and governments worked to close the digital divide.
This article by Brickstone Africa reviews Invest Africa's  report on Africa's digital infrastructure opportunity.
The Africa's Digital Infrastructure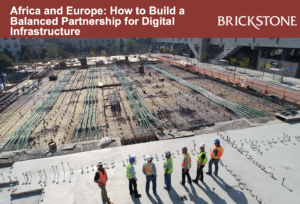 According to Invest Africa, current trends indicate a significant leap forward in internet penetration, mobile connectivity, and the adoption of cloud services across the continent. The proliferation of affordable smartphones, coupled with the expansion of fibre-optic networks and the deployment of undersea cables, has paved the way for increased connectivity in previously underserved regions. 
There is much work yet to be done, however – especially to further expand mobile networks, increase and improve fibre links, and build data centre capacity. 
According to a report by the IFC and Google, Africa's internet economy is one of the largest overlooked investment opportunities available, with a potential to add US$180 billion to Africa's GDP by 2025.
Africa's digital economy has long been a focus area for Invest Africa, with recent content on the continent's digital trade strategy and the powerful role of technology to help bridge the gender gap. This IA Insights explores Africa's digital infrastructure opportunity, highlighting investment opportunities in the sector along with current trends, persistent challenges, and market intelligence from pan-African mobile network operator Africell. 
Connecting Africa: Where are the Opportunities and What are the Challenges?
Internet usage in Sub-Saharan Africa has increased from 1% in 2000 to roughly 40% today. With Africa's population projected to reach 2.5 billion by 2050, the demand for digital services is expected to soar. 
According to the African Union, approximately 473 million Africans are online today, with an additional 300 million likely to join them by 2025. Achieving and surpassing this level of penetration is no doubt crucial to Africa's future growth.
Expanding mobile networks, increasing and improving fibre links, and building data centre capacity present some of the greatest investment opportunities in digital infrastructure across Africa. These specific sub-sectors offer significant potential for growth and are essential for driving connectivity, data storage, and processing capabilities on the continent. According to GSMA, Africa is projected to have 615 million unique mobile subscribers by 2025 – up from just 303 million in 2020. 
Additionally, the Africa Data Centres Association highlights the need for data centres to support the growing digital ecosystem, stating that "Africa requires at least 100 additional data centres by 2025." Investing in mobile network expansion, fibre infrastructure, and data centres is not only necessary to meet the increasing demand for connectivity, but also to facilitate the development of a robust digital economy, unlock new business opportunities, and bridge the digital divide by providing access to digital services and information for underserved populations. Numerous challenges persist, however. 
According to the World Bank, achieving universal, good-quality internet access across Africa will require investments of $100 billion, 80 percent of which is needed for core infrastructure to establish and maintain broadband networks. 
This includes 250,000 new 4G base stations, at least 250,000 kilometres of fibre, and migration to 5G, which, in turn, could dramatically increase the need for data centres. While investors are increasingly aware of and interested in opportunities within digital infrastructure across Africa, investment levels today are insufficient to meet the growing demand.
The confusing web of regulatory environments across the continent poses another challenge. As the International Telecommunication Union states, "the diversity of regulatory frameworks across Africa remains a major challenge for cross-border connectivity and regional integration." Inconsistent regulations create barriers for digital infrastructure providers and investors, leading to delays in infrastructure deployment and hampering cross-border connectivity initiatives. 
This lack of regulatory coherence stifles innovation, investment, and the overall growth of the digital economy in Africa, limiting the potential for digital inclusion and economic development on a broader scale.
Africa's digital infrastructure landscape also faces clear deficits, including the lack of reliable electricity, which severely impacts the deployment and operation of digital infrastructure. According to the World Bank, approximately 600 million people in Sub-Saharan Africa lack access to electricity, making it challenging to sustain the necessary power supply for digital networks and data centres. 
Without a stable electricity infrastructure, the expansion and optimisation of digital services become constrained, impeding economic development and digital inclusion across the continent.
Read the complete report here. 
Why not contact us to make your Project Happen
Our advisors and consultants would be able to schedule an online meeting with you to discuss your project with the overall objective of seeking ways to achieve the "bankability" and protection of the long term asset value of your project.
Request a Meeting Now