Opportunities and Challenges of Battery Energy Storage
As the world increasingly swaps fossil fuel power for emissions-free electrification, battery energy storage technologies are becoming a vital storage tool to facilitate the energy transition. In tandem with this drive is an increasing requirement for battery energy storage devices capable of creating long-term reliability and efficiency.
According to the International Energy Agency, battery energy storage capacity worldwide is expected to expand by 56% over the next five years, reaching 270 GW by 2026. Most of this growth is expected to lie in utility-scale batteries, with tax incentives driving its expansion and wide-scale adoption.
This increased demand for renewables and energy storage platforms will create new opportunities for all companies in the energy generation and distribution supply chain.
This article by Brickstone reviews some institutional reports and publications on battery energy storage, highlighting key opportunities and challenges. 
Battery Energy Storage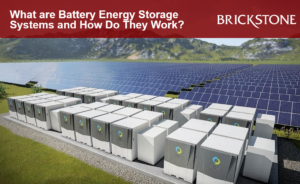 As the need for power system flexibility and sustainability has grown alongside the rapid decline in the cost of storage technologies, especially lithium-ion batteries, the interest in grid-scale battery energy storage systems has over time gained much prominence. In this regard, recent estimates show that the global market for battery energy storage will grow at an unprecedented pace by 2026. This rapid growth presents great opportunities to support the green transition.
Key Market Drivers for Battery Energy Storage
According to Deloitte, the following are key global trends driving the push for energy storage:
Cost and Performance Improvements. Particularly relating to lithium-ion batteries, driven by expanding electric vehicle markets and related manufacturing economies of scale, costs are dropping while performance is improving.

Grid Modernization. The growth of battery storage goes hand-in-hand with grid modernization efforts, including the transition to smart grids. Batteries help to unlock the full potential of smart technologies, and vice versa.

Global Movement Toward Renewables. Broad support for renewable energy and emissions reduction is also driving adoption of battery storage solutions. This is especially apparent within the corporate and public sectors.

Participation in Wholesale Electricity Markets. Battery storage can help balance the grid and improve power quality regardless of the generation source. Nearly every nation we examined is revamping its wholesale market structure to allow batteries to provide capacity and ancillary services.

Financial Incentives. Multiple nations are increasing the availability of financial incentives for storage investment. This reflects the growing awareness of policymakers of the range of benefits battery storage can deliver throughout the electricity value chain.

Phase-outs of FITs or Net Metering. Reduction of feed-in-tariffs (FITs) or net metering payments is emerging as a driver of behind-the-meter battery deployments in some countries, as customers strive to derive maximum value from their rooftop solar installations in the absence of these incentives.

Desire for Self-sufficiency. Motivations for purchasing storage systems are not purely financial. In Germany, for example, ecological motives, independence from utilities, resiliency, and technical curiosity are all thought to be motivations. Similarly, self-sufficiency is a strong driver in Italy, the United Kingdom, and Australia.

National Policy. Many countries are turning to renewable energy storage to reduce dependence on energy imports, enhance the reliability and resiliency of their systems, and move toward environmental and de-carbonization targets.
Challenges in Global Battery Storage Markets
Prominent barriers to storage deployment can be traced to the speed with which battery storage technologies and their applications are evolving, and to the multiplicity and flexibility of battery storage. They include:
Perceptions of High Prices. Costs have been dropping so quickly that decision-makers may have outdated notions about the price of systems, thinking that batteries still cost the same as they did a couple of years ago, or even six months ago.

Lack of Standardization. Participants in early stage markets often contend with diverse technical requirements as well as varied processes and policies. Battery suppliers are no exception, making lack of standardization a roadblock to further deployment.

Outdated Regulatory Policy and Market Design. As can be expected with emerging technologies, regulatory policy is lagging the energy storage technology that exists today. Besides wholesale market rules, retail rules will also need to be updated, especially as residential and commercial and industrial interest grows.

Incomplete Definition of Energy Storage. Energy storage is having an identity crisis, with stakeholders and policymakers around the world wrestling with how to define fast-acting battery storage.
Read more here. 
Why not contact us to make your Project Happen
Our advisors and consultants would be able to schedule an online meeting with you to discuss your project with the overall objective of seeking ways to achieve the "bankability" and protection of the long term asset value of your project.
Request a Meeting Now