Brickstone Dealcamp Series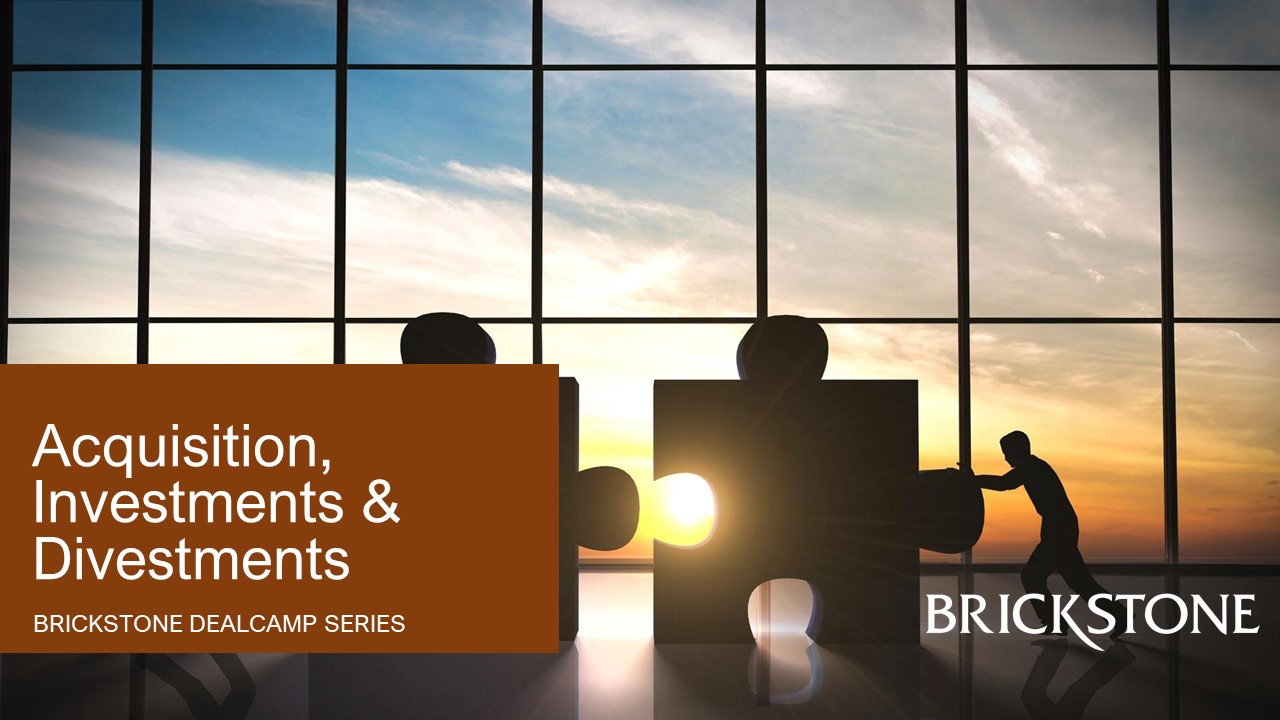 Acquisition, Investments and Divestments 
This Divestment, Investment and Acquisition
would help participants (mainly project sponsors) to develop skills necessary to structure a deal or form an opinion about any proposed transaction involving the Acquisitions, Divestments and Investment for any business enterprise. Topics in this Investment and Acquisition Training include value creation in mergers and acquisition; choice of payment method; valuation of private companies; deal due-diligence; incentive effects of deal financing. 
Masterclass Objectives
This Divestment, Investment and Acquisition Training (Introductory Course) will look at enhancing financial and commercial analysis of any typical Acquisition, Investments and Divestment. There will be a focus on connecting the dots between legal & financial due-diligence and how this is driving successful transactions.It also explains the how the skills of a Transaction Adviser helps sponsors to navigate the process.
In this introductory course participants will get an overview of the major aspects of the mergers and acquisitions (M&A) industry. Participants would discover the theories and concepts that underpin Acquisitions, Investments and Divestments, and learn the skills involved in executing transactions, from a deal's inception to closure and integration
Programme Overview
A Three (3)-day training covering the full life cycle of the Acquisitions, Investments and Divestments developments
Framed within the context of English Corporate Law 
Consists of lectures, hands-on group exercises and video case studies.
Expand Your Knowledge – Understand how different financial tools enable the many innovative transaction analysis
Who Can Participate?
The Divestment, Investment and Acquisition Training (Masterclass) is focused more on Sponsors and Project Owners as detailed below
Start-up Entrepreneurs involved in the process of Acquisition and Investments in various sectors
Heads of Family Managed Enterprises,Directors and Strategic Decision makers in Corporations
Mid to Senior level corporate executives in Public Sector dealing with strategic acquisition and divestment  issues
Academics and students who are looking out for strategic insights into the practical aspects of M&A transactions
Content Outline
Day One (1): Setting for Acquisitions; Divestments and Investment
1. Growth and Value Creation
Explain value creation through growth and industry consolidation.
Discuss why companies need to take strategic decisions such as acquisitions, divestments and investments.
Marco Economic Realities
Identify common seller and buyer motivations;
2. The Key players in Strategic Transactions
Identify the key players in Strategic Transactions and explain the rationale on the decision to Buy or Sell;
Highlight the buyers and sellers preparation for the deal
3. Due-Dilligence
Explain why Mergers and Acquisitions Fail;
Show the importance of Legal Due Dilligence
Key DD Elements to look out for
4. Valuation Approaches & Fundamentals
Highlight the process of determining the Universe of buyers;
Explain using the Invested Capital Model to define the investment being appraised;
Highlight the Financial Statement Adjustments to look out for in M&A's;
Discuss how to manage investment risks in Merger & Acquisitions.
Day Two (2): Investment Process to Signing Up and Closing
5. Investment Process to Signing Up
This section will look at how a typical Institutional investment process works. Even though the general aspects of the process are the same across various firms, the details can vary widely depending on how the investment opportunity was sourced (proprietary sourced vs. public auction) and each firm's investment committee process.
Signing a Non-Disclosure Agreement (NDA)
Initial due diligence & Management Presentation
Deal Alert (first review with Investment Committee)
Non-Binding Letter of Intent (LOI) or First Round Bid
Further due diligence with management
Building an Internal Operating Model
Preliminary Investment Memorandum
Recommendations and Proposed Project Plan
Final Due Diligence and process up to submit a binding bid
Update and Final Investment Committee Approval
Final Binding Bid and Signing
Day Three(3): Investment Process to Signing Up and Closing
6. Investment Process from Signing Up to Closing
Once an investing firm has officially signed a deal with the target company, both parties will jointly issue a press release announcing the transaction.
Key Learning issues include
Management Equity Roll-Over and Incentive Option Pool
Execute Debt Financing
Closing Funds Flow
7. Workshop on Risk Assessment & Strategy
Discussion Panel on discussion of Transaction risks how to deal with them. Key risks include credit, market, interest, infrastructure, engineering, liquidity, supply, currency, political and environmental. Guest Speakers to be invited to share their knowledge
Facilitator
The Facilitators are leading specialist in Mergers and Acquisition transactions having vast commercial and financial advisory experience range from negotiations to sourcing, developing, closing and delivering equity, project/ corporate finance and other contractual structures across major transactions within Nigeria and Sub-Saharan Africa.
Masterclass Locations, 2019–2020
Abuja
Lagos
Accra
Fill Form below to Learn More About Dates, Locations, and Pricing