Brickstone Dealcamp Series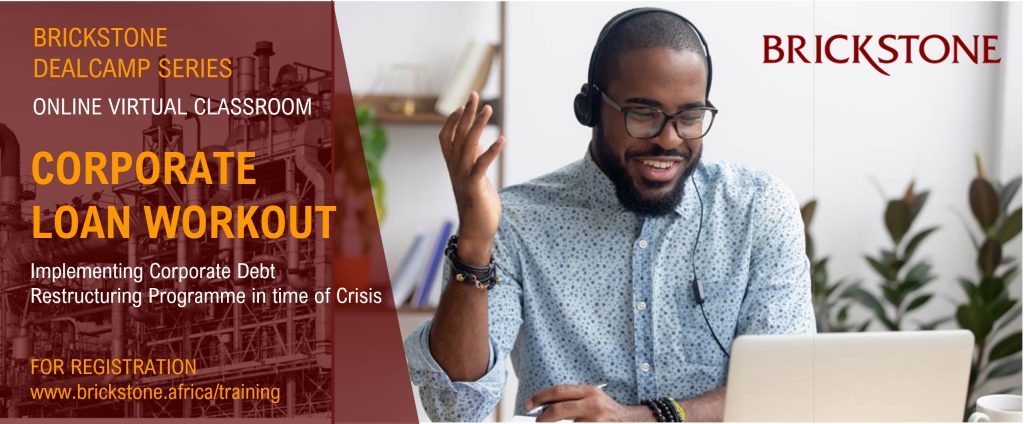 Corporate Loan Workout
Implementing a Corporate Debt Restructuring Programme in time of Crisis
Introduction
Brickstone designed this course for Businesses throughout Africa in most infrastructure and Large scale industries which have been adversely impacted by the outbreak of COVID-19, whether due to government ordered closures, mandatory and voluntary quarantines, social distancing, workforce reductions, supply-chain shortages or other issues which have impacted or would impact their debt service obligations. As a result, commercial borrowers are already, or will shortly be, defaulting on debt service payments and loan covenants.
This course looks at the key issues that underpins "Corporate loan workout" and restructuring process where attendees will have a chance to try out each stage of the restructuring process namely.
1. The identification/early warning of distress and an initial assessment of viability.
2. The support operation encompassing standstill principles and including, as necessary, a full financial restructuring.
3. The recovery process and the commercial measures needed to achieve a turnaround/ rescue.
The course is developed from a "Lenders mindset" as Lenders in the next 12 months would be facing a cascade of distressed credit facilities resulting from the economic fall-out from the COVID-19 pandemic will need to engage with "Borrowers" at all stages of workouts, from preliminary discussions through the negotiation and preparation of loan work programmes.
Who Can Participate?
This course is aimed primarily at Entrepreneurs, CEOs or Banking Officers/Managers who may involved in Corporate Loan work programmes. We see Lenders facing a cascade of distressed credit facilities resulting from the economic fall-out from the COVID-19 pandemic will need experienced knowledge at all stages of workouts, from preliminary discussions through the negotiation reviewing debt restructuring options and preparation of loan amendments or forbearance agreements
Brickstone believes it is also important important that "Borrowers" have a solid grasp of basic debt restructuring awareness in order to engage efficiently with Lenders and how these decisions affect the debt restructuring
Content Outline
The course provides important experience and practical teaching over 6 days with online classes from 9.00am to 1.00pm . The training ends up in a Capstone Report where participants would need to prepare a Debt Restructuring Proposal to Lenders ( using his own company data  or illustrative case study data)
Module A:  Introduction
Course Introduction
Why raise Corporate Debt
Modes of Corporate Debt
• Corporate Finance Debt (Corporate finance basics, the parties and mechanics)
• Project Finance Debt (Project finance basics, the parties and mechanics)
The Parties in Corporate Lending

The Borrower
The Sponsors/owners of the borrower
The Lenders
EPC Contractors (Project Finance Debt)
Module B. Understanding the Lending Relationship
Understanding the General Basics of Loan Agreements

Representations, Covenants and Events of Default

Causes of Debt Service Default 

Market & Demand Risk
Failed Project Economics
Poor Risk Sharing Arrangements
Un-Insurable Risks (e.g COVID-19)

Implication Debt Service Default under Covid-19

Discussions on Funder discretions, Information undertakings, Draw-stop, Events of default / potential events of default, Distribution block

Basic Financial Modelling on Debt Service Coverage Ratios and Applications
Module C. Loan Workout Overview
The Rationale for Restructuring:

Why Restructuring is at the Lenders Discretion; Why Debt Service history of Borrower is Key; The Choice to Restructure vs Insolvency; Why Lenders restructure rather than go through formal insolvency procedures?

Debt Restructuring Process

Trigger Event
Stabilization
Information gathering and assessment
Evaluation of options
Formulating proposals (Contingency planning)
Negotiations
Completion

Basic Financial Model Review on Debt Restructuring Impacts
Module D. Information Gathering and Review Process 
Discuss the Information Gathering and Review Process which envisages to answer four essential questions regarding the Borrower:
Growth: how were Borrowers 's activities carried out throughout the examined period and what was the growth rate compared to that of the sector or competitors;
Yield: whether the results obtained are proportionate with resources used and whether the growth was accompanied by a satisfactory yield;
Balance: what is the financial structure of Borrowers and whether it is balanced or not, in the context of the ratio between the capital masses for a suitable financial support;
Risks: their nature, whether Borrowers has weaknesses which may hinder its restructuring and whether or not there is an increased bankruptcy risk
There would be Practical Excel Exercises with Assignments
Module E. Debt Restructuring Options, Negotiations & Implementation
Review of Debt Workout options from the Lenders' perspective
Evaluating Restructuring Options

Borrower Operational with Working Capital Loan
Borrower Operational with Term Loan
Borrower with Projects "Under Construction" with Term Loan

Developing Restructuring Proposals
Case Study Review
Duration
6 days of online classes from 9.00am to 1.00pm
Location
Online Classes (Virtual Learning Classroom)