Why Business Plans are Essential
Business Plans
A common question we get from clients is "How do I get a bank loan  to fund my startup?" The default answer is that it probably won't happen because most banks just don't make bank loans to startups. The failure rate is just too high, and startups typically don't have the assets or revenue stream to back up the loan. That's why angel investors are so sought after by entrepreneurs. In our experience, some startup founders do overcome these odds, but you need to be realistic and do your homework.
A major issue noticed in our experience is that many Project owners approach Banks or Lenders without a business plan, and asking for money, is a sure way to be rejected and leave a bad first impression.
Stage I: Start-up Business Plan »
Brickstone Partners team consists of industry expert business plan writers. Our Stage I Start-up Business Plan can be used for companies raising initial seed funding and getting off the ground for their projects. The total amount being raised is not of paramount importance.  Our business plan collaboration with the project owner is tailored to help the business owners in two of the most demanding development stages: capital acquisition and managerial guidance. Our Stage I business plan is always tailored to the company's needs, whether the offering encompasses debt or equity securities, or financing via a small business loan using Government Intervention Funds or angel investment.
The Start-up Plan includes complete financials, potential cash-flow, market analysis and marketing strategies as well as a break-even analysis, and a separate executive summary and much more.
Stage II: Expansion or Series B Business Plan »
Brickstone Partners' Stage II Expansion or Growth Business Plan existing companies' entrepreneurs that are seeking to expand or scale their business, including by increasing market share. The Expansion Business Plans are tailored for companies raising a second round of funding, usually more capital than the initial seed fund. Features of such business plans would include a comprehensive marketing strategy, a thorough competitive analysis, and systematic financial projections as well as up to date expenses and much more all of which would assist the company to strategically manoeuvre through unforeseen disruptions.
The Stage II Growth Plan helps to define concepts, target markets, and market potential, as well as financial clarity necessary to define your concept, identify your market potential, and identify capital requirements. The executive summary included.
Stage III: Enterprise Plan »
Brickstone Partners' Stage III Enterprise Business Plan serves the need of those later stages and established companies seeking to raise additional capital to expand their businesses, often in the form of issuing debt securities such as bonds or convertible notes. Companies that fall into this category would most likely have several years of operating history, possibly a disruptor in their industry and one that is constantly growing in both market share and its number of employees.
The Stage III Enterprise Business Plan is our most comprehensive business plan and often our clients will need Information or a placement memorandum (offering memorandum) written as well.
Feel free to reach out to us anytime for a free business plan consultation. Our team can assist with developing and implementing your business plan model in a timely and cost-effective method.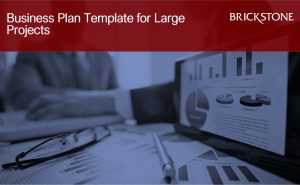 Download this business plan format guide to assist you in writing your business plan.
Brickstone Partners Business Plans Advisory Services Value-Proposition
Our objective is to be one of the most reliable and affordable Business Plan developers in Nigeria.
3 to 4 weeks' average time for completing business plans
Proven track record of saving business owners millions of naira in needless spending while developing the business plan
Ability to draft your business plan and information memorandum or offering memorandum for debt or equity offerings or any other service and package everything as one price
We are somewhat of a one-stop business for most of the project finance start-up and later stage company needs.
Personalized Business Plans
Our staff at Brickstone Partners offer a variety of Business Plans custom-tailored to the needs of the client's business model. We take into consideration the product or service and the overall market of the company, including the location(s) of the business. Below is a partial list of the standard business plans offered by the firm.
Such business plans are customized to the needs of the individual client's.











 Why not contact us to make your Project Happen 





Our advisors and consultants would be able to schedule an online meeting with you to discuss your project with the overall objective of seeking ways to achieve the "bankability" and protection of the long term asset value of your project.





 Request a Meeting Now