Brickstone InfraLAB Acceleration Programme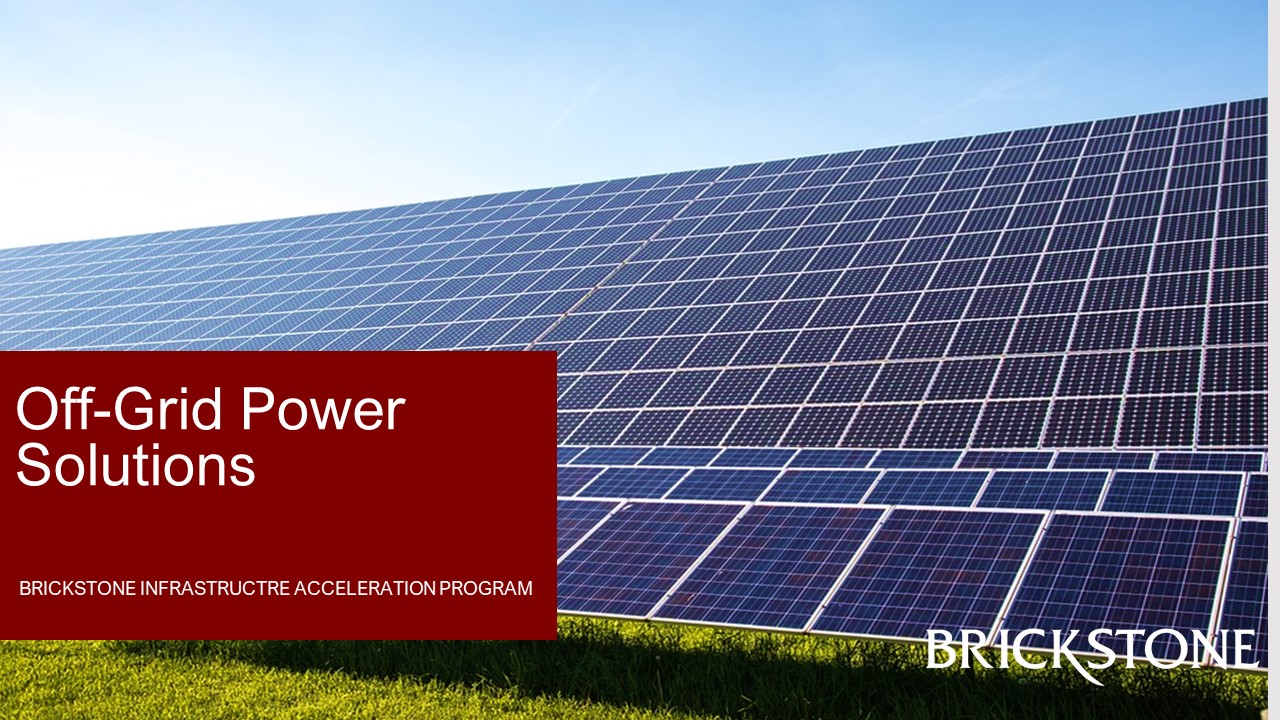 Off Grid Power Solutions
Brickstone InfraLAB is looking at customized solutions to meet the challenges of the rapidly growing hybrid and off grid power market in Africa. Solutions that combine the usage of traditional and renewable energy sources with energy storage systems, controlled and managed by intelligent power conversion technology to deliver power to individuals, communities and industries that are not supported by the grid.
Wind and Solar power is the fastest growing energy technology in the world. Grid and generation parity to fossil fuels is reached or tackled from large to small scale projects across many countries without policy support. 
Acceleration Programme Objectives
This Off-Grid Power Programme will be a focussed on connecting the dots between technology & financial innovation and how this is driving business models of Off-Grid Power.
The programme intends to tackles the growing challenges facing private sector companies in the renewable energy projects in meeting Off-Grid Power regulations and supporting the sustainable frameworks for the growth of mini-grids.
There are key challenges for Off-Grid Power because the require mini-grids and do not have traditional PPAs with a single, contracted off-taker. Hence these transactions are  committed to developing the data sets and frameworks necessary to demonstrate that portfolios of uncontracted off-takers can produce predictable, bankable cash flows. This programme would throw more light on the need for increasing the predictability and accuracy of projecting revenue from its assets, as this would be a critical step for unlocking financing.
Key Learning Objectives
Off-grid Applications
Technical challenges, target areas, load profiling, commercial operating models and motivation for hybridization for Off Grid Power Solutions
Equipment Procurement & Key Terms
Training and understanding of the different procurement techniques in the Wind and Solar PV Equipment Sourcing and also the Supply Chain Management.
Financing
Financing Instruments: grants, debt & equity instruments, leasing, tax credits, guarantees, non-recourse vs. corporate finance. Carbon finance.
Use of cash flow model to analyse and structure a deal that allows both investors and lenders to participate whilst providing economic benefits to the offtaker / client.
Legal & Contract Structuring in Off-Grid Power Projects
Understand the use the key Legal and Structuring Requirements for Off Grid Power Projects
Investment Lifecycle
Understand the use the model to support decision making process for sponsor, investor and lender during financing.
Workshops on Risk Assessment & Strategy
Discussion Panel on discussion of Key Projects risks how to deal with them. Key risks include credit, market, interest, infrastructure, engineering, liquidity, supply, currency, political and environmental. Guest Speakers to be invited to share their knowledge
Programme Locations, 2019–2021
Abuja
Lagos
Accra